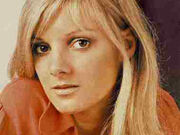 Anneke Wills played the determined and beautiful Polly Wright in Doctor Who between 1966 and 1967. Her character remained close to Ben Jackson and so she worked with Michael Craze regularly and left alongside him. She returned to record Big Finish Productions audio stories including The Companion Chronicles where she voiced Polly again.
Ad blocker interference detected!
Wikia is a free-to-use site that makes money from advertising. We have a modified experience for viewers using ad blockers

Wikia is not accessible if you've made further modifications. Remove the custom ad blocker rule(s) and the page will load as expected.