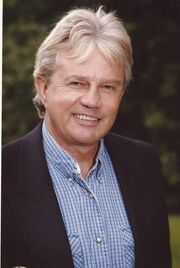 Frazer Hines (22 September 1944) played the strong, determined, and yet hazy Jamie McCrimmon in Doctor Who from 1966-1969 and is currently the longest-serving companion of all time. Hines returned for the 20th Anniversary Special, The Five Doctors and then a little later in the story, The Two Doctors, where in both, he acted alongside Patrick Troughton as the Second Doctor. Hines returned in 2007 to record audio stories under the title, The Companion Chronicles and continues to do so now.
Ad blocker interference detected!
Wikia is a free-to-use site that makes money from advertising. We have a modified experience for viewers using ad blockers

Wikia is not accessible if you've made further modifications. Remove the custom ad blocker rule(s) and the page will load as expected.